CMS Systems
A CMS is a content management system used to create and modify digital content. One of the most important decisions when it comes to your website will be which CMS to use.
There are differences between the many CMS systems on the market, including their relative features and benefits. At Blick, we are multiple CMS capable, so we can work with a number of systems. However, we do tend to work mostly with the following five:
WordPress
WooCommerce
Drupal
Magento
Shopify
Let's take a quick look at each, to see which CMS might be right for your organisation.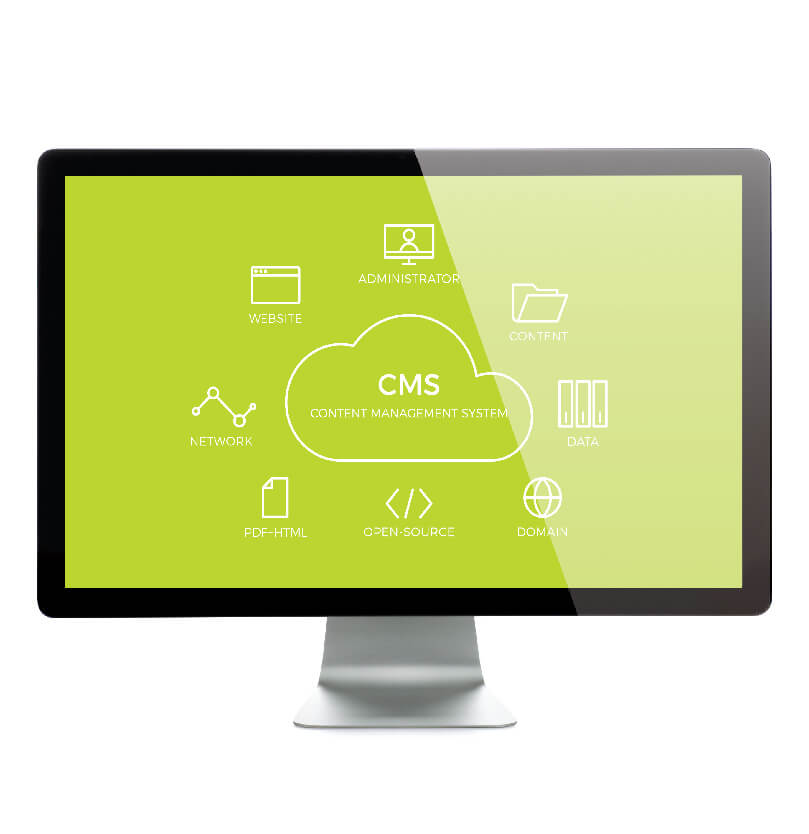 WordPress
WordPress is the most popular content management system (CMS) in the world. If you or your staff have limited website development and maintenance knowledge, WordPress is generally one of the easiest systems to understand and use.
WordPress also comes with literally thousands of available plugins and templates that Blick can use to build a customised solution for your website – for example, for slideshows, contact forms, videos, sharing to social media, and adding search-engine-optimised (SEO) copy and images. It also usually has lower set-up and maintenance costs.
Using WordPress, Blick's designers and developers can create and modify so many different layouts and applications to meet your organisation's unique needs. And, because WordPress plugins are generally easier for you to add and manage without needing a developer – and because many people are already familiar with WordPress – once Blick has built your website, we can then more easily hand it over for you or your staff to update and maintain.

Key benefits
Able to build custom themes
Designed for anyone, not just developers
Easy to use
Highly flexible and customisable
Most popular CMS in the world
WooCommerce
WooCommerce is the most popular eCommerce platform in the world by number of users, which is no doubt related to (but not being purely because of) it being so easy to plug into a WordPress website. This is really useful as it allows you to use the benefits of WordPress with the additional eCommerce capabilities of WooCommerce.
Like WordPress, there are a lot of WooCommerce plugins available to allow you to easily increase your website's functionality, such as PDF invoice, packing slip and follow-up email plugins. It also has an easy-to-use interface and can handle a range of eCommerce sites, including those selling physical products as well as memberships, online courses or digital access to specific media or downloads.
However, because it relies on so many plugins, it's important to consider that while it may initially be a more cost-effective solution, WooCommerce can become limited and difficult to scale because of the need to maintain so many plugins. Also, WooCommerce's catalogue and order-management capability can be more limited compared to some of the more robust eCommerce platforms available.

Key benefits
A plugin to WordPress (allowing you to access the benefits of the WordPress CMS)
Cost-effective
Easy to get started with
Easy-to-use interface
The most popular eCommerce platform in the world
Drupal
With its strong security features and advanced functionality offering the possibility to build more complex and integrated systems – including videos, polls, blogs, podcasts, and statistics – the Drupal CMS tends to be more often used by Blick's government and not-for-profit clients.
Drupal has more features, so if your organisation needs a more complex website with multiple content types and page templates, Drupal is more likely to suit. In particular, the user permissions that can be set up in Drupal are more advanced, meaning you can set up various site administrators and content editors with personalised access to various content items, thus making it better equipped to support multiple site stakeholders within an organisation.
Security is also one of the biggest considerations when it comes to using Drupal. Its enterprise- level security and in-depth security reports, for example, make it a more popular choice for government websites.
Overall, Drupal is powerful and flexible, allowing you to create unique and effective websites tailored to your organisation's and audience's needs.

Key benefits
Easily scalable – easy to add multiple pages as needed
Higher levels of security
Highly customisable
More advanced user permissions for multiple users in an organisation
Powerful, allowing creation of more unique websites
Magento
Magento is one of the most powerful eCommerce platforms on the market. While it powers both small and very large eCommerce websites, it is excellent for larger eCommerce sites that require more of a high-security, robust functionality. There are also multiple versions of Magento available, including those able to meet organisations' cloud-based and enterprise-level needs.
One of the best things about Magento is that it can manage thousands of products and huge numbers of orders (but of course, you can also start with just a few products). So, if something you sell suddenly takes off – which we hope it will – you'll be ready. All this means that if you choose to use Magento from the start of your eCommerce business, you won't need to switch systems as your business grows.
Some versions of Magento were also designed with search engine optimisation (SEO) in mind, meaning that it's easy to optimise your products and descriptions to perform better on search engines. Magento sites are also mobile responsive, allowing your customers to easily see and purchase your products from their mobile device, which also helps with SEO. Magento is also highly customisable and built to drive sales. Of course, all these benefits can come at a slightly higher price point than other eCommerce solutions, but one that could be worth it for your business or organisation.

Key benefits
Excellent product data capabilities for large and complex product catalogues
Great for SEO
More advanced payment and shipping capabilities
More robust promotion capabilities
Scalability, meaning it's easy to manage sudden growth in products and sales
 Shopify
 With various plan and cost levels depending on what exactly you are looking for, Shopify is one of the most popular and most flexible eCommerce platforms on the market today. Designed to let you easily build or plug in an online store onto your existing website or build a new store from scratch, Shopify also lets you sell in-person, on online marketplaces, and through social media.
Being cloud-based and hosting a huge number of stores globally, Shopify offers a large network of servers across the world to ensure your customers can get your online store loaded quickly. It also supports multiple currencies and languages.
Using Shopify, Blick can build your store using a number of existing, professionally designed themes – including in different languages – and there are no restrictions on the number of products you can sell. Shopify also supports all the most well-known payment platforms (such as PayPal, or debit and credit cards) and allows you to add other payment gateways if needed.

Key benefits
Cost-effective
Dedicated technical support contact for your store
Flexibility to access and run your business from anywhere with an internet connection
Good security technology to protect customers' payment information
Supports multiple languages